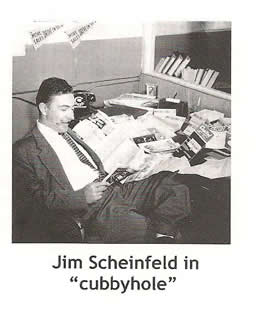 The Scheinfeld Center for Entrepreneurship and Innovation began with the generous support of the late James D. Scheinfeld. A permanent endowment to support the Center was formally created through Mr. Scheinfeld's family trust in the fall of 2007. Mr. Scheinfeld's vision to encourage and support the development of new businesses, promote entrepreneurship, and assist existing businesses in Santa Barbara was born from his genuine regard and commitment to equal access to educational opportunities for all individuals.
James D. Scheinfeld was a dedicated and generous supporter of Santa Barbara City College (SBCC) as Board Member of the Foundation for SBCC since 1989, serving as its Chairman from 1996 to 2000. Mr. Scheinfeld co-chaired the 21st Century Campaign from 1990 to 1996, raising more than $25 million for College programs and facilities. He was a generous contributor to the college with gifts totaling over $2 million, supporting numerous academic programs and student services. Originally from Milwaukee, Wisconsin, Mr. Scheinfeld had a long and successful career as a businessman and entrepreneur, forming several companies. He moved to Santa Barbara upon his retirement in 1985. He was actively involved with local organizations and charities ever since.
A resolution citing Mr. Scheinfeld's achievements, and announcing his endowment of the SCEI was passed and adopted by the Board of Trustees of the Santa Barbara Community College District on October 18, 2007.