Learn to Launch a Business in One Semester at SBCC
Anyone with a business idea can lay the groundwork for launching a business in a single semester through the Enterprise Launch course offered at the Santa Barbara City College Scheinfeld Center for Entrepreneurship & Innovation.
Fall enrollments are now open, and offered to all SBCC students regardless of academic discipline.
"The Scheinfeld Center gave me the direction of where I wanted to go in my entrepreneurial journey," said Justin Richard, an alumnus of the Enterprise Launch class.
Richard said he got the inspiration for his business Convert Marketing during his time at the Scheinfeld Center. "It definitely helped me get where I am today," he said.
Convert Marketing is a Facebook ad agency that recently provided strategic services to help a Kickstarter campaign raise an additional $300,000. Richard's business has doubled its revenue in the last two months.
"Justin is one of many students who came to Enterprise Launch with entrepreneurial aspirations and was able to turn those dreams into reality with help from the support, networking, and knowledge gained through Scheinfeld Center," said Julie Samson, Scheinfeld Center director and Enterprise Launch course instructor.
"It doesn't matter how old or young you are, we equip our students with the tools needed to launch a business with confidence," she said.
Four of the Scheinfeld Center's entrepreneurship courses are offered this fall, including Enterprise Launch. Enterprise Launch enables students to launch a simple product or service in a single semester with the support of business mentors.
Students can bring their own business idea, or join a team with an idea. Business ideas are protected under nondisclosure agreements.
Fall semester entrepreneurship classes schedule:
» Enterprise Launch (ENT 206, CRN# 37905), Wednesdays 5:30-8:35 p.m., starts Aug. 23. Instructor: Julie Samson, Scheinfeld Center Director
Rapidly develop a product or service in a single semester by creating a prototype, obtaining customer feedback and validation, and making early sales.
» New Venture Management (ENT 204, CRN# 36573), Tuesdays,Thursdays 11:10 a.m.-12:30 p.m., starts Aug. 22. Instructor: Dorthe Walker, former small business owner.
Learn proven strategies for successful management of a new business venture. Examine operational strategy, project management, forecasting, inventory management, materials requirement planning, scheduling, and supply chain management.
» Entrepreneur: Idea to Business (ENT 202, CRN# 36074, Valerie Ellis, instructor) and Entrepreneurship & Innovation (ENT 201, CRN# 36073, Samson, instructor) are fully enrolled but may be subject to waitlist.
The Entrepreneurship courses meet the needs of students planning to start a business, obtain employment, retrain, earn an A.A. Degree, transfer to four-year college or university, or enhance understanding of the environment where they work and live.
Students eligible for SBCC's Promise can receive two years of no-cost tuition, required fees, books and supplies.
All students also have access to no-cost business consulting and coaching from the Scheinfeld Center's Small Business Development Center for support during and after the semester.
Class registration is underway with fall semester starting Aug. 21. To apply to SBCC or to register for classes, visit www.sbcc.edu or contact the Scheinfeld Center at jasamson@sbcc.edu, or 965-0581 ext. 3643.
To learn more, visit www.scheinfeld.sbcc.edu or call 965-0581 ext. 3643.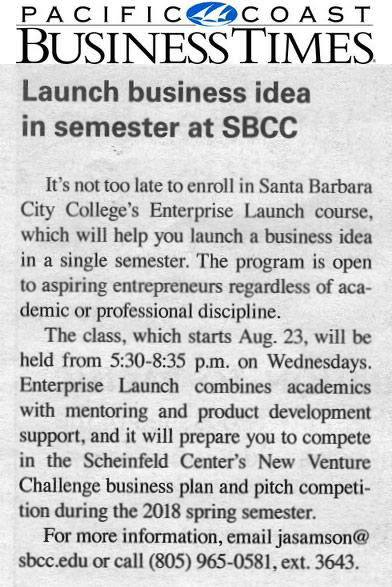 https://www.noozhawk.com/article/enterprise_launch?utm_source=Noozhawk%27s+P.M.+Report&utm_campaign=b6dfe89d47-EMAIL_CAMPAIGN_2017_08_08&utm_medium=email&utm_term=0_096bcce0ff-b6dfe89d47-247110301